Footprint Modelling Expert-Workshop
The aim of this workshop is the development of a footprint tool for optimal placement of fixed spectrometers and for combination of EC measurements with UAV-based spectral data. The footprint tool developed by Prof. N. Kljun (http://footprint.kljun.net) will be extended to allow for simple integration of remote sensing information from Modis and possibly Sentinel 2. This will aim at selecting optimal sensor placement for continuous spectral information acquisition at Eddy Covariance sites. The tool will be in a form of a website to make it available to the community. The workshop will take place at the University of Innsbruck from 13.02.17 to 16.02.17.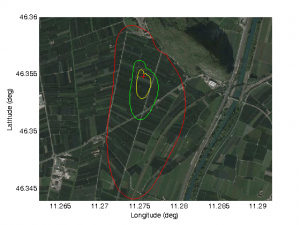 Action members with expertise in Eddy Covariance footprint modelling, coding and bayesian statistics are invited to participate (max. 6).
Programm
Monday, 13.2 
9.00-12.30: arrival and opening of works
13.30-18.00: presentation of participants, planning of work
Tomelleri Enrico: From Ground to Satellite: on the Use of Hyper-Spectral UAV-borne Data for Linking Scales
El-Madany Tarek: Footprints in Savannas – merging hyperspectral data and footprints to estimate spatial heterogeneity
Kljun Natascha: Application of footprint models
Wohlfahrt Georg: On linking flux measurements and proximal sensing
Tuesday, 14.2
9.00-12.30: discussion/coding
13.30-18.00: discussion/coding & daily wrap-up
Wednesday, 15.2
9.00-12.30: discussion/coding
13.30-18.00: discussion/coding & daily wrap-up
Thursday, 16.2
9.00-12.30: closing and departure
Workshop participants (from right to left: Georg, Natascha, Tarek and Enrico)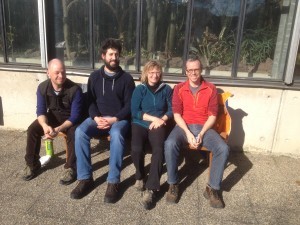 Link to the Workshop Report: footprint-report