The objective of the workshop was to bring together people with expertise about beam and imaging spectrometers for ecological analysis. The 2 approaches have advantages and disadvantages in the spectral and in the spatial domain. During the days of the workshop we will discuss these and design experiments for testing hypothesis on sampling designs. Experts of field spectrometry, UAV science, geostatistics and photogrammetry have been invited. During the workshop an experiment will be planned, executed and data will be processed.
The workshop is organized in 4 days. The first 2.5 are reserved to OPTIMISE members. Wednesday afternoon there will be talks (in Italian/German) for the public. The 4th day is dedicated to graduate students.
| | Monday 17.10 | Tuesday 18.10 | Wednesday 19.10 | Thursday 20.10 |
| --- | --- | --- | --- | --- |
| Morning | OPTIMISE - Experiment planning | OPTIMISE - Field | OPTIMISE - discussion | PhD Students' Day (UNIBZ) |
| Afternoon | OPTIMISE - Field | OPTIMISE - data processing | Invited talks (open to public) | PhD Students' Day (UNIBZ) |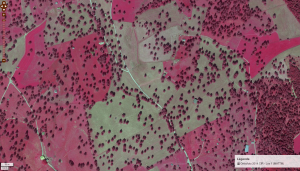 the area for the experiments (46.567844, 11.291660).
Program OPTIMISE Workshop
Monday 17.10
9.00 – 12.00
Welcome: Enrico Tomelleri
Introduction to the participants: all
Introduction to OPTIMISE: Alasdair MacArthur
The piccolo system: Alasdair MacArthur
Discussion: planning of experiments
12.00 – 13.30 Lunch in the university canteen
Visit to the test site:
experiment 1: BRDFs from hyper spectral imagers
experiment 2: estimates of spatial variability with increasing spectral information
The MAIA system: Mario Gattelli
Tuesday 18.10
Organizing and Processing data
12.00 – 13.30 Lunch in the university canteen
Visit to the test site:
experiment 2: comparison of MAIA, Rikola and onboard spectrometers
experiment 3: repeatability of GPS flight plans
Wednesday 19.10
Processing of UAV data in IDL: Frank Veroustraete
Organizing and Processing data
Closing of the works: Alasdair MacArthur, Enrico Tomelleri
12.00 – 13.30 Lunch in the university canteen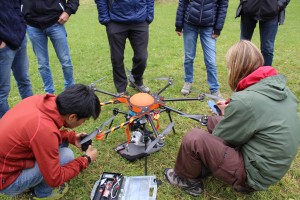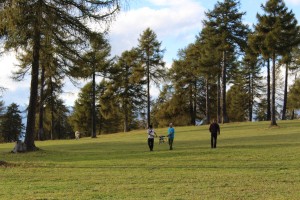 participants during the experiments

an overview of the test site
Program Open UAV Event (19.10)
———————————–
14.00 – 14.10 Opening, Enrico Tomelleri: EURAC
14.10 – 14.30 Aspekte der Flugplanung im Gebirge. Hannes Kleindienst: Grid-IT 
14.30 – 14.50 Acquisizione e analisi di dati multispettrali mediante sistemi UAV. Marco Dubbini: SAL Engineering
15.10 – 15.30 Von der UAV-Entwicklung zum praktischen Nutzen in der Wirtschaft. Michael Überbacher: Soleon/Alto Drones
15.30 – 16.00 Progetto SMILE: esperienze di monitoraggio con UAV in agricoltura di precisione. Gianluca Ristorto: Mavtech
16.00 – 16.30 Break
16.30 – 16.50 Applicazioni UAV per il Precision Farming. Beniamino Gioli: CNR
16.50 – 17.10 L'uso del drone per il rilevamento e il monitoraggio delle frane. Romy Schlögel: EURAC
17.10 – 17.30 Operazioni specializzate in ambienti estremi: problematiche operative per missioni con UAV. Giorgio Guglieri: Politecnico di Torino
17.30 – 17.50 Centro di Simulazione di Ambienti Estremi di EURAC Research: una facilty per futuri test di droni in zone montane. Andrea Vilardi: EURAC
17.50 – 18.10 discussion and conclusions
Venue: Free University of Bozen/Bolzano, Room C2.02, Universitätplatz 1, 39100 Bozen/Bolzano Italy.
Link to Workshop Report: es1309_optimise_challenges_of_uav_spatial_sampling_report